Recommended Global Physical Therapy Rehabilitation Webinars & Conferences
Asia Pacific & Middle East
Physiotherapy Meet 2020
About Conference
Join us for 8th World Congress on Physiotherapy and Rehabilitation
Update your skills, enhance your knowledge base, and broaden your horizons—all in one place!
Physiotherapy, Rehabilitation, Mental Health, Human Kinesiology, Sports Injury, Chinese physical therapy medicine, Pediatric Physiotherapy, Orthopedics, Pain Medicine, Neurosurgery, Yoga & Fitness, Physiatrist, Laser Medicine
Date: September 24-25, 2020
Venue: Abu Dhabi, UAE
---
ME Conferences invites all the participants from all over the world to attend 8th WORLD CONGRESS ON PHYSIOTHERAPY AND REHABILITATION to be held during September 24-25, 2020 at Abu Dhabi, UAE. This includes precise keynote, presentations Oral talks, Poster presentation, and Exhibitions.
Physiotherapy and Rehabilitation Conference 2020 is an open platform to explore and gain knowledge in the field of medical science. This conference brings together Physiotherapists, medical and Physiotherapy professional experts, practitioners, Therapists and treatment providers, relevant clinical applications in fields such as neurology, orthopaedics, and respiratory physiotherapy to enable an international forum to explore the approved research.
The conference witnessed an amalgamation of peerless speakers, who enlightened the crowd with their enviable research knowledge and on various alluring workshops related to the field of Rehabilitation and Physiotherapy, carried out through various scientific-sessions and plenary lectures.
Physiotherapy Meet 2020 Conference is a dedicated platform for all Physiotherapists working as a clinicians, managers, researchers, students or educators to share their knowledge and experiences in the field of physiotherapy and Rehabilitation to network with colleagues from around the world and interact with international leaders in their field.
Why to attend Physiotherapy and Rehabilitation Conference 2020?
8th World Congress on Physiotherapy and Rehabilitation is among the World's leading Scientific Conference. The two-day event on Physiotherapy and Rehabilitation practices will host 60 + Scientific and technical sessions and sub-sessions on innovative researches in the field of physiotherapy and rehabilitation across the globe. Physiotherapy Meet 2020 will constitute of 20 major sessions designed to offer comprehensive sessions that states current issues in the various field of Physiotherapy and Rehabilitation.
The attendees can find exclusive sessions and panel discussions on latest innovations in Physiotherapy and Rehabilitation
Lectures from renowned speakers
Keynote forums by Prominent Professors, Doctors
Open Innovation Challenges
Poster presentations by Young Researchers
Global networking sessions with 50+ Countries
Novel techniques to benefit your research
Best platform for global business and networking opportunities
Meet the editors of referred journals, Society and Association members across the Globe
Excellent platform to showcase the latest products and formulations in Physiotherapy and Rehabilitation field.
Who should attend Physiotherapy and Rehabilitation Conference 2020?
Physiotherapy Faculties

Physiotherapy Researchers

Physiotherapy Associations and Societies
Business Entrepreneurs
Training Institutes
Manufacturing Medical Devices Companies
Data Management Companies
Physiotherapy Students, Scientists
Physiotherapists
Orthopaedic Surgeons
Rehabilitation & Health
Care Professionals
Family Physicians
Sports Physicians
Other Medical Specialties
Neurologists & Neurosurgeons
Medical Insurance Representatives
Nurses
Tracks/ Sessions
The treatment of mental health disorders usually includes two aspects: the actual treatment itself, and rehabilitation. Treatment focuses on reducing the symptoms of an illness that are present in the patient. In the case of a person with fever, the goal of treatment is to bring down the body temperature.
Cardiac rehabilitation, also referred to as cardiac rehab, is a custom designed outpatient application of exercise and schooling. Cardiac rehabilitation is designed to help you enhance your fitness and help you get over a coronary heart attack, other styles of heart disease or surgical procedure to deal with heart disorder. It is the most common treatment for people recovering from myocardial infraction and angioplasty, coronary-aortic by-pass graft surgery. It is to improve the cardiac function, reduce the risk of reinfarction and to prevent progression of the atherosclerotic process. The goals of cardiac rehabilitation embody establishing Associate in nursing personal attempt to assist you regain strength, preventing your condition from worsening, reducing your risk of future heart issues, and rising your health and quality of life.
Physiotherapy in the field of oncology and palliative care is a continuously evolving and developing specialty, both in malignant and non-malignant diseases. Rehabilitation for both groups of patients is now recognized as an essential part of the clinical pathway, as early diagnoses and new treatments are enabling patients to live longer.
Acupuncture is best in the treatment of sports, work, auto accident rehabilitation, and post-operative pain. Acupuncture in combination with rehabilitation may have benefits for the treatment of acute and sub acute stroke emanation in comparison with rehabilitation alone. Stroke is a major cause of death in the nations and can also cause caustic disability. Acupuncture is a comparatively simple, inexpensive and safe treatment that has been used in China for hundreds of years and is increasingly practiced in some Western countries. However, it remains unclear whether the existing evidence is sufficiently strong to recommend the regular use of acupuncture.
Physiotherapists generally work with children who are having physical and developmental disabilities like Down syndrome, Cerebral palsy and help them with physical and motor skills problems. Physiotherapists who work with children's want you to be involved in your child's discussion and in planning your child's treatment. Good connection with families is very important to pediatric physiotherapists.
This therapy aims at promoting health and wellbeing through regular conduction of occupational activities. The patient is given simple tasks to perform, to gradually regain their ability to function independently. Occupational therapists work with people of all ages who need specialized assistance to lead independent, productive, and satisfying lives due to physical, developmental, social, or emotional problem. Patients affected by stroke, autism, depression and anxiety as well as those who have undergone surgeries can enrol themselves for OT. Elders can also enrol themselves in a Geriatric Occupational Therapy program.
Vocational rehabilitation, shortened as VR or voc rehab, is a progress which enables persons with functional, psychological, developmental, cognitive, and emotional disabilities or impairments or health disabilities to overcome barriers to accessing, maintaining, or returning to employment or alternative helpful occupation.
Speech therapy is given to patients, who are having a difficulty in communication, swallowing and to those who are suffering from speech and language disorders. These ailments may arise due to complications such as stroke, brain injury, developmental delays and congenital anomalies. The intention of speech therapy is to mix the mechanics of speech with language usage. The treatment begins with an initial evaluation followed by assessment, diagnosis, counselling and treatment. Services for cognitive aspects of communication, speech, language, swallowing, voice and sensory awareness are provided by speech therapy.
Respiratory therapy is an associated singly designed service, specifically provided within the home to supply preventative, maintenance, and rehabilitative airway-related techniques and procedures. Respiratory therapy includes treating diseases, infections, or viruses of the cardiopulmonary system, such as lung cancer, asthma, emphysema, bronchitis, and pneumonia.
Over the period of the past 2 years, in particular, there have been several notable advances in the physical therapy, There has been renewed interest in the spondyloarthropathy family of chronic inflammatory Pain medication conditions, which has been fueled to a large extent by the biologic era Smartphone and iPad apps for physical therapy professionals and patients are a growing trend.
Many apps are inexpensive or even free and provide handy resources like physiotherapy glossaries, exercise videos, orthopedic diagnosis tools, clinical tests, and even 360-degree visual anatomy The Berkeley-based company Ekso Bionics broke new ground in rehabilitation services and gait training when it developed the Ekso suit, an aluminum and titanium exoskeleton that helps patients suffering from varying degrees of paralysis or hemiparesis with movement.
Thousand years ago, ancient China gives birth to Traditional Chinese Medicine. It includes many Body & Mind practices, for example, Acupuncture, Tui-na (Chinese therapeutic massage), Moxibustion (burning an herb above the skin to apply heat to acupuncture points), Qigong (practices that combine specific movements or postures, coordinated breathing, and mental focus), Tai-chi, Chinese herbal medicine and Dietary.
There are overall 20 different treatment approaches commonly used by your physiotherapist. In fact, your physiotherapist has training that includes techniques used by most hands-on professions such as chiropractors, osteopaths, massage therapists, and kinesiologists.
Geriatric physiotherapy covers numerous issues concerning people as they go through normal adult aging. These include (but are not limited to) arthritis, osteoporosis, cancer, Alzheimer's disease, hip and joint replacement, balance disorders and in continence, reduce pain and increase fitness.
Orthopaedic manual therapy includes treatment of the musculoskeletal system (which is made up of the muscles and bones of the body) that has been subject to injury or trauma. This includes sprains, strains, post fracture, post-surgery, and repetitive injuries. The areas of the body include the neck and back as well as the extremities.
Instrument Assisted Soft Tissue Mobilizations or Simply IASTM is a simple and practical technique, because the surface of the instrument minimizes the force used by the practitioner, but maximizes the force delivered to the tissues and also it is another scope of hardware which empowers clinicians to productively find and treat people determined to have delicate tissue Aquatic exercise based recuperation. The procedure itself is said to be an advanced development from Traditional Chinese Medicine called GuaSha. IASTM is a will be a methodology that is quickly developing in ubiquity because of its viability and productivity.
Musculoskeletal Physiotherapy is a specialised area of physiotherapy treating injuries and conditions which affect the muscles, joints, and soft tissues. Injuries which can be treated by musculoskeletal physiotherapy are Ligament sprains, Muscle strains.
Stroke is an acute onset of neurological dysfunction due to an abnormality in cerebral circulation with resultant signs& symptoms which corresponds to involvement of focal areas of the brain. It is defined as the sudden onset of neurological deficits due to an abnormality in cerebral circulation with the signs and symptoms lasting for more than 24 hours or longer.
Vestibular rehabilitation is an exercise based program, designed by a specialty trained vestibular physical therapist, to improve balance and reduce problems related to dizziness. Benefits of vestibular rehabilitation, patients who are diagnosed with dizziness, imbalance, vertigo, Meniere's syndrome, benign paroxysmal positional vertigo (BPPV), neck-related dizziness and migraines.
Neurological physiotherapy, Rehabilitation after stroke is crucial because two thirds of patients suffer disability as a result of the stroke. The disability depends on the size and location of the stroke. For example, stroke in the left side of the brain tends to impair speech, comprehension of the spoken word, motor power and sensation on the right side of the body. Stroke in the right side of the brain tends to impair attention, Spinal Cord Injury, and movement and sensation on the left side of the body.
In the modern era, rehabilitation after sports injury has become a domain for specialists, and its evolution has necessarily brought together the sports physiotherapist, the sports physician, and the orthopaedic surgeon. Sports injuries may happen in any part of the body. The most common sports injuries tend to be fairly minor: bruises, sprains, strains, and more. Still, there are more serious injuries for athletes depending on the region and type of activity. Sports injury rehabilitation helps athletes effectively treat pain and return to normal function. Sports physiotherapy treats a range of conditions including strains, sprains, muscle, tendon and ligament repairs, tendonitis, hand injuries, shoulder dislocation, foot or ankle dysfunction and surgery rehab.
Market Analysis Report
Physiotherapy gives administrations to people and populaces to create, keep up, re-establish and improve wellbeing and capacity all through the life expectancy. This incorporates giving administrations to individuals imperilled by ageing, injury, illness or natural elements. Physiotherapy distinguishes and expands personal quality of life and development potential by utilizing the standards of advancement, prevention, treatment/intercession, and rehabilitation. This incorporates physical, mental, emotional, and social prosperity.
The Physiotherapy Services industry has profited from Dubai's maturing populace and rising private medical coverage scope in the course of recent years. Physiotherapy administrations have likewise turned out to be more moderate for family units in the course of recent years, as expendable salaries have developed. Industry income is gauge to ascend at an annualized 4.2% over the five years through 2017-18, to reach $1.66 billion. Somewhat lower income development of 3.1 % is estimate for the present year.
The act of physiotherapy isn't restricted to clinical practice, and includes all parts that a physiotherapist may expect, for example, quiet/customer mind, health management, research, policy making, teaching and counselling, wherever there might be an issue of general health and safety. The Physical Therapy Rehabilitation centre's industry is made out of both inpatient and outpatient treatment offices that give physical, discourse pathology and occupational therapy services. In the five years to 2017, the industry has encountered income development because of the maturing populace and expanding acknowledgment of the advantages of physical therapy administrations. The quantity of grown-ups matured 65 and more seasoned has likewise helped support industry income development amid the period since seniors will probably require physical therapy administrations on account of the expanded commonness of wounds, sicknesses and incessant conditions in that age gathering. The business has additionally profit by the extension of medicinal services scope under the Affordable Care Act. Over the five years to 2017, industry income is relied upon to increment at an annualized rate of 1.27% to $ 29.5 billion, including an expansion of 1.2 % out of 2017 alone.
Abu Dhabi is the second most populous and capital the city of the UAE. Abu Dhabi rests on a T-shaped island jutting into the Persian Gulf. Abu Dhabi is the federal capital and center of government in the United Arab Emirates. Abu Dhabi's rapid development and urbanization is coupled with the relatively high average income of its population, has transformed the city into a large and advanced metropolis.
Currently Abu Dhabi is the country's centre of political and industrial activities, and a major cultural and commercial centre, due to its position as the capital. Its focus on oil exports and commerce is reflected by the skyline's modern towers and shopping mega centres such as Abu Dhabi and Marina malls.
Global market analysis of Physiotherapy and Rehabilitation field:
The physiotherapy equipment market is divided based on products, applications, end users, and geographies. Based on the type of products, the physiotherapy equipment market is segmented into equipment and accessories. The equipment section is further classified into cryotherapy, hydrotherapy, heat therapy, continuous passive motion (CPM), electric stimulation, ultrasound, therapeutic exercises, and others like laser therapy, wax therapy, and traction. Equipment accounted for the largest share ~65% of the global physiotherapy market in 2014. Based on geography, the physiotherapy equipment market is segmented into North America, Europe, Asia-Pacific, and Rest of the World (RoW)
The global physiotherapy equipment market is anticipated to grow from an estimated US$ 14,972.1Mn by the end of 2015 to US$ 23,750.9Mn by 2022 at a CAGR of 6.8% during the forecast period.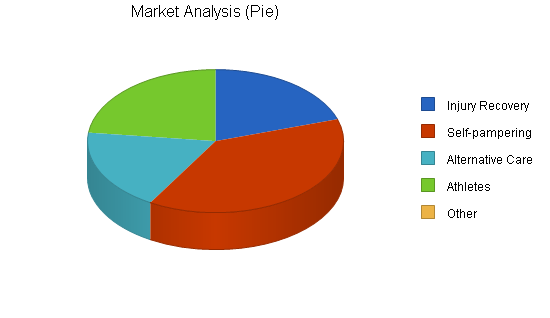 The overall market for wearable therapeutic contraptions was regarded at $4.8 billion of each 2015. This market is required to increase from $5.5 billion of each 2016 to about $19.5 billion out of 2022 at a compound yearly improvement rate (CAGR) of 28.8% for 2016-2022.The overall recuperation robots market will create at a CAGR of around 23% by 2022.
The physiotherapy gear advertise is required to enlist a CAGR of 7.2% amid the figure time frame. It has seen amazing development as of late. The expanding frequencies of the cardiovascular just as neurological issue have animated the interest in physiotherapy hardware over the world. A portion of the components, for example, the rising commonness of cardiovascular, musculoskeletal, and neurological maladies, combined with the expanding older populace empower this market to record an expected CAGR of 7.2%.(2019-202).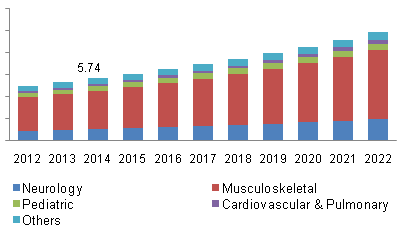 Target audience:
Physiotherapy Researchers
Physiotherapy Faculty
Medical Colleges
Physiotherapy Associations and Societies
Business Entrepreneurs
Training Institutes
Manufacturing Medical Devices Companies
Data Management Companies
Physiotherapy Students, Scientists
Physiotherapists
Orthopaedic Surgeons
Rehabilitation & Health
Care Professionals
Family Physicians
Sports Physicians
Other Medical Specialties
Neurologists & Neurosurgeons
Medical Insurance Representatives
Nurses
Related Societies:
Asia pacific :
Singapore physiotherapy association, Physiotherapy association New Zealand, Indian association of physiotherapy, Korean physical therapist association, Indonesian physiotherapy association, Nepal physiotherapy association, Japanese physical therapy association, Taiwan Physical Therapy Association Congress
Middle East:
Egypt physical therapy association, Kuwait physical therapy association, Omani Physiotherapy and Rehabilitation Association, Turkish Physiotherapy Association, Syrian Physical Therapy Association
USA:
Canadian Physiotherapy Association's (CPA) , Maryland physical therapy association, New Jersey physical therapy association, Kentucky physical therapy association, Massachusetts physical therapy association, Michigan physical therapy association, Minnesota physical therapy association, American physical therapy association, Ontario Physiotherapy Association
European:
Australian physiotherapy association, International associations of health care practitioners, Danish physiotherapist association, German association of physiotherapist, Irish society of chartered physiotherapist, World confederation for physical therapy, Norwegian physiotherapy association, Physiotherapy Association of Trinidad & Tobago
List of Physiotherapy Universities around the World
Johns Hopkins University
University of Queensland
Harvard University
Monash University
University of Oxford
University of Cambridge
Stanford University
University of Cape Town
Fatma College of Health Sciences
Yale University
Imperial College London
Ain Shams University
University of California, Los Angeles (UCLA)
University of Southern California
University of Delaware
University of Pittsburgh
Washington University in St. Louis
University of Iowa
U.S. Army-​Baylor University
Past Conference Report
Physiotherapy Meet 2019
ME Conferences organized the 7th World Congress on Physiotherapy and Rehabilitation in Abu Dhabi, UAE during November 18-19, 2019 with a focus "Probing the Advancements and Technologies in Physiotherapy and Rehabilitation" where eminent Keynote speakers, session speaker, poster presenter and workshop presenter from various reputed institutions around the world and made their resplendent presentations addressed the gathering.
Physiotherapy Meet 2019 witnessed an amalgamation of peerless speakers who enlightened the crowd with their knowledge and confabulated on various new-fangled topics related to the field of Physiotherapy and rehabilitation.
Following are the Keynote speakers with their titles:
Dagmar Pavlu, Charles University, Czech Republic is the first Keynote Speakers of the conference with his presentation entitled "Application of Brügger concept in modern physiotherapy"
Following are the session's speakers with their titles:
Florian Forelli and Maude Traulle, Clinique de Domont-IFMK Saint Michel, France with his Presentation title "What quantitative evaluations after ACL surgery? "
Mahboob Ur Rahman, Karachi University, Pakistan with his presentation entitled "The effectiveness of prayer in maintenance of physical health in context of "stand, pray, there is shifa/healing in prayers" (Hadees of Ibn Maja).
Mitesh Patel, Aastha Oncology Associate, HCG Cancer Centre, India with his presentation entitled "Significance of physiotherapy rehabilitation in cancer"
Olumide Olasunkanmi Dada, University of Ibadan, Nigeria with his presentation entitled " Constraint-induced movement therapy: Correlates of duration of adherence to use of restraint among stroke survivors with hemiparesis
ME conferences offers its heartfelt appreciation to all the speakers who have attended and obliged to the Organizing Committee Members, adepts of field, various outside experts, company representatives and other eminent personalities who supported the conference by facilitating the discussion forums. ME Conference Series also took privilege to felicitate the Organizing Committee Members who supported this event.
With the unique feedbacks from the conference, ME conference would like to announce the commencement of the "8th World Congress on Physiotherapy and Rehabilitation" to be held during September 24-25, 2020 at Abu Dhabi, UAE
Past Reports
Gallery
To Collaborate Scientific Professionals around the World
Conference Date September 24-25, 2020
For Sponsors & Exhibitors
Useful Links
Past Conference Report